Ini kegiatan tahunan dari Mahasiswa Elektro UI: NEST. Kepanjangannya canggung nian: National Electrical Seminar & Technology :). Beberapa minggu lalu, ketua penyelenggara kegiatan ini, Sdr Hegar Mada, dan sekretaris kegiatan, Sdr Isyana Paramitha, bergantian menghubungi IEEE Indonesia Section untuk endorsement kegiatan ini. Tentu, kegiatan akademis dan profesional semacam ini kita dukung. Komunikasi sempat terhenti sepanjang Ramadhan :). Tapi selesai APCC, Hegar berkontak lagi. Dua hari sebelum Hari-H, Hegar datang ke kantor Kebon Sirih. Ia menyampaikan undangan sebagai Keynote Speaker. Penandatangannya Dr Muhamad Asvial, salah satu pendukung kuat kegiatan-kegiatan IEEE di Indonesia. Jadi aku tidak bisa menolak. (Hey, ini H-2)
NEST berlangsung 12-13 September 2013 di Gedung Perpustakaan Pusat Universitas Indonesia, Depok. Tema NEST adalah "A step foward to the green information and communication technology sustainability." Keynote speech berlangsung di hari pertama, disusul seminar, workshop, dan pameran.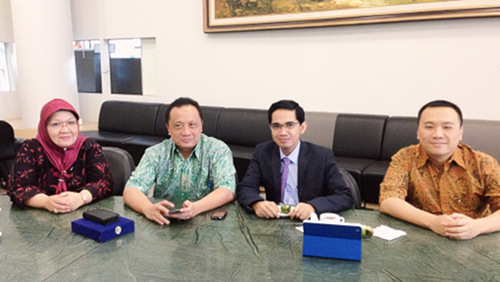 (Coffee break bersama Prof. Riri, Prof Mulli, dan Pak Charles)
NEST dibuka Dr Muhamad Asvial, Kepala Departemen Teknik Elektro, Fakultas Teknik UI. Keynote speech pertama dari Prof. Dr-Ing. Kalamullah Ramli, atau akrab dipanggil Pak Mulli, Staf Ahli Menkominfo bidang Teknologi. Pertama kali aku mengenal nama beliau waktu masih di pengajian Isnet beberapa tahun lalu. Syukur sempat ketemu beliau akhirnya :). Keynote kedua dari aku, mewakili IEEE Indonesia Section. Prof Riri Fitri Sari (CIO UI) sempat hadir juga di tengah speech-ku.
Presentasiku berjudul "Green-Aware Networks" :). Sebelumnya aku sempat mengintip daftar program. Workshop dan seminar akan membahas hal-hal semacam smart grid, cloud computing, dan beberapa materi menarik lain. Jadi aku fokuskan presentasi pada hal yang belum dibahas pada workshop dan seminar, yaitu pada cognitive radio yang memiliki awareness pada reservasi energi dan kelestarian alam. Materi cognitive radio ini memang pernah aku presentasikan, namun penekanan pada konteks kehijauan memberikan pesan baru pada diskusi ini.
(Presentasi "Green-Aware Networks")
Selesai presentasi, ada sesi break dengan kopi dan lemper yang sedap. Aku meluangkan beberapa menit ke lokasi pameran. Wow, robotika! Kebetulan aku sedang mendadak agak sedikit tertarik urusan robotika, sensor, dll. jadi aku menyibukkan diri berbincang-bincang dengan peserta pameran, dari UGM, Unitel, dan lain-lain. Plus dipameri hal-hal menarik.
Kembali ke ruang seminar, Pak Charles sedang memaparkan aspek openness dan security pada ICT projects. Ini hal yang penting untuk green ICT. Reusable engineering (hardware/software) memiliki peran penting buat ICT yang ramah lingkungan.
Jam 12:00 aku pamit balik ke kantor Kebon Sirih. Mitha mengawalku ke luar gedung perpustakaan. Sebenernya sih, mau bikin foto dulu di danau. Tapi aku ditunggu kegiatan lain di kantor sih. Syukur masih sempat foto di pintu perpustakaan.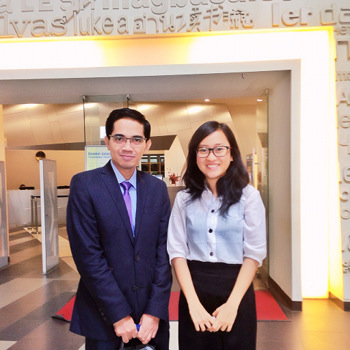 (Dikawal Mitha)
NEST UI dikemas sederhana, namun menunjukkan komitmen yang kuat, dari sisi akademis dan profesional, dari para engineer muda di UI dan kampus-kampus lain yang bertekad meningkatkan kekuatan negeri ini melalui teknologi tinggi, tanpa mengabaikan lingkungan, dan justru dengan tekad memperbaiki kembali lingkungan hidup yang hijau. Bravo, Universitas Indonesia. Teruskan dan tingkatkan aktivitas yang keren dan menginspirasi semacam ini.